First Amendment and Intellectual Property Counsel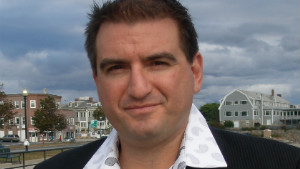 Our First Amendment and Intellectual property counsel is Marc Randazza and the Randazza Legal Group. Mr. Randazza came to our attention when people started referring to him as a "First Amendment Bad Ass". This was a long time ago, when he won his infamous arbitration against Glenn Beck, when Beck tried to shut down a critical website.
Randazza has four academic degrees. He got his BA in Journalism from the University of Massachusetts. He then attended law school at Georgetown. Following that, he did a fellowship at the University of Florida, where he got a Masters' Degree in Mass Communication. Since that was not enough school for him, he also went back to school in Italy, where he earned an LLM degree (a graduate law degree) from the University of Turin in International Intellectual Property.
In his foreign law studies, Randazza wrote his thesis on Morality Based Impediments to the Enforcement of Intellectual Property Rights. He has written on that subject quite a bit, standing up for the Redskins and for The Slants. In both of those landmark cases, Randazza authored an Amicus brief on behalf of the First Amendment Lawyers Association.
Early on in his career, he published a thesis on First Amendment issues in elections in the age of the Internet. From there, his First Amendment work only gained more prominence.
Mr. Randazza has handled quite a few cases for us, the most recent (and most important) being Roca Labs v. Opinion Corp. in the Middle District of Florida. In that case Randazza and his team successfully fended off a lawsuit against us, getting us a win on Summary Judgment under Section 230.
Mr. Randazza also represented us in a case where Nevada Corporate Headquarters tried to sue us for defamation, but we were able to use the Nevada Anti-SLAPP law to dismiss the case. This was the first employment (that we know of) of the Nevada Anti-SLAPP law after its 2013 amendments, which Mr. Randazza was instrumental in getting passed. Randazza not only worked tirelessly to get Nevada's law passed, but also wrote the Nevada Lawyer Article on it. His SLAPP work is national, and he has advocated for a National Anti SLAPP law.
His work in Nevada is, of course, not limited to SLAPP defense. He was the author of a definitive article on the Legal Status of filming porn in Nevada. And, he was the only person in history to successfully use the Florida Anti-SLAPP law.
Mr. Randazza also handles a significant amount of international arbitration, including a very long list of successful domain name arbitrations before the World Intellectual Property Organization.
Randazza is a frequent commentator in the national press when it comes to free speech issues.
When it comes to free speech issues, Randazza is no stranger to controversy. He has written articles for CNN defending offensive speech and sticking up for Donald Sterling's privacy. Speaking of privacy, he even rubbed some of his First Amendment allies the wrong way when suggesting that the United States might need a right to be forgotten, akin to that in Europe.
His Journalism years instilled him with a sense of ethics. For example, he wrote about the posting of a mass murderer's manifesto. His position is that even when the First Amendment allows such conduct, it is not necessarily the right thing to do. More articles by Mr. Randazza on free speech issues can be found here and here.
While he blogged on free speech issues for years at his own blog, The Legal Satyricon, he recently joined the law blog, Popehat. His reasons for doing so? "I always respected the team at Popehat," he said. "Further, Ken White is one of my good friends. I liked the readership and platform there, and it really has reinvigorated my creative streak." One of my favorite pieces there was taking on the New York governor for a First Amendment violation.
Randazza frequently takes on high profile targets when it comes to free speech issues, like when he wrote against the mayor of Boston in a free speech issue.